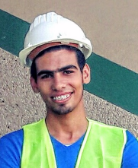 Abed El-Rahman Rezeq Gharbia
[email protected]
  •  (+972) 0592441627   •  Gaza , Palestine 
Bachelor's Degree in Civil Engineering from the University Of Palestine 2015


A competent Project Engineer with excellent communication, organisation and co-ordination skills. Possessing a proven track record of preparing and executing project plans and programmes, ensuring that work is carried out in accordance with the companies procedures and clients satisfaction. Able to ensure timely, safe and cost-effective design and implementation during the life cycle of projects from conception till customer satisfaction.
Project Engineering Skills                               COMPUTER SKILLS
---
• Designed, implemented, and supervised infrastructure projects of varying complexity for rural and urban centers. • Overseen and was responsible for inspecting and supervising the project, thus ensuring complete accuracy and project efficiency. • Exceptional skills handling all procedures involved with Quality Control and Assurance, resulting in the finished project meeting and exceeding Industry standards.
---
AutoCAD , Water cad , Robot ,Microsoft Excel , Microsoft Word , Microsoft project , Microsoft PowerPoint and ArcMap.
Al-Fajer Al-Jadeed Co.   05 Feb 2016 - Present

   As a project engineer in the project of :
                     1- The establishment of the commercial building of the Municipality of Deir al-Balah.
                      2- The development of Abu Bakr street in Rafah.


                      3- Maintenance of the Municipality of Deir al-Balah building.
Hydration Co. , 01 Nov 2015 - 04 Feb 2016
   As a project engineer in the project of :Maintenance of streets damaged by war.
Structural Analysis using Autodesk Robot : (Islamic University Of Gaza).
Auto-Cad (planning software). : Pixel information technology center.

Increase the profits small companies: Birzeit University.

Design water networks using Water Cad : Pixel information technology center.

English Language Course : British Academy Of Languages.
---
Arabic
Excellent - Mother tongue
---
English 
Very good- the second language
Speaking skills, writing, and reading
Personal Objective 
My desire is to create a truly competitive arena wherever I work.
I want to bring my enthusiasm and sense of confidence to the organization and to the people I work with. 
REFERENCESE
Available upon request.