Jesse Brodkey
A rational director & creative strategist championing both measured and verifiable solutions and outcomes for enterprise.
[email protected]
(510) 332-8484
Austin, TX USA
Director / Creative & Strategy
Summary of Qualifications
• 8 years in Creative Direction, Strategy and Communication
• Design Thinking, IA & ID, Content Creation, Project Management, Motion Graphics and Education
• Seasoned Visual Narrative expert dedicated to clear, concise and engaging prose across multiple disciplines 

• Science-based UCD/UI/UX implementation, solutions and outcomes for enterprise 
• Articulating complex concepts and integrating those of expert collaborators
• Distinguishing high priority assignments that meet and succeed deadlines 
• Encouraging a fun, energetic and stimulating work environment
ABC
Through both internal stakeholder and external customer interviews, as Director of Strategy we uncovered clear needs for the client's current O&G clients, as well as a burgeoning market in previously unknown fields and domains. A brand and website refresh, followed by iterative UX improvements for their cadre of proprietary apps, with newly verified persona paths, promises to reach a significantly wider audience in 2017 than Q4 of 2016.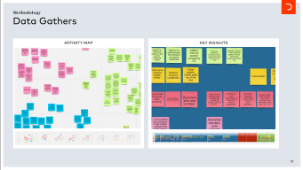 Data Gathers
We began by asking the right questions through a wide reaching contextual research engagement.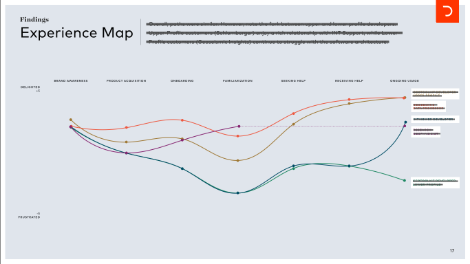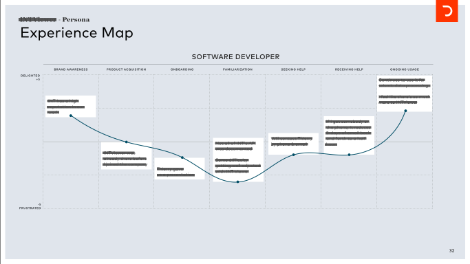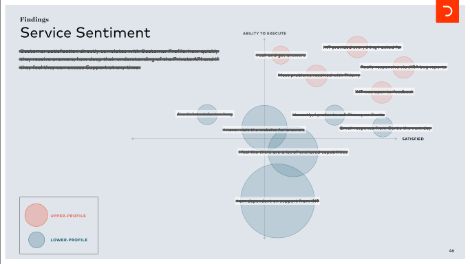 User Journeys
It became clear customers experienced different levels of service and support.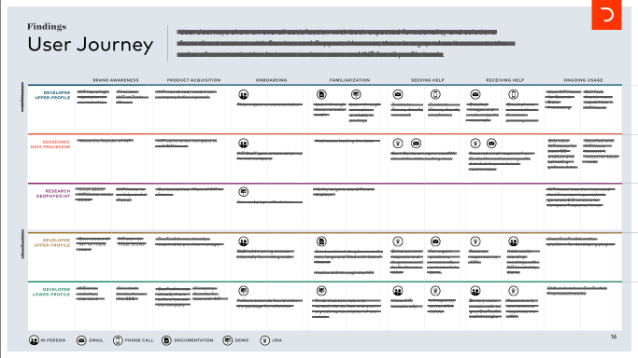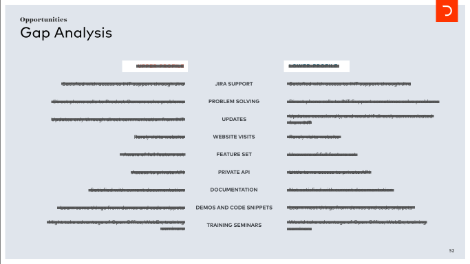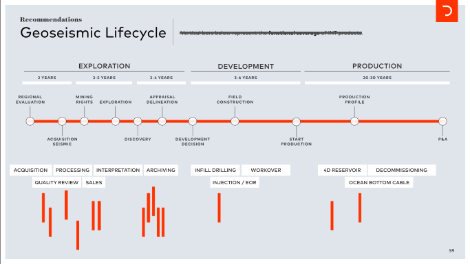 Brand Workshops

We aligned Stakeholders to remove irrational innovation and produce real value driven solutions.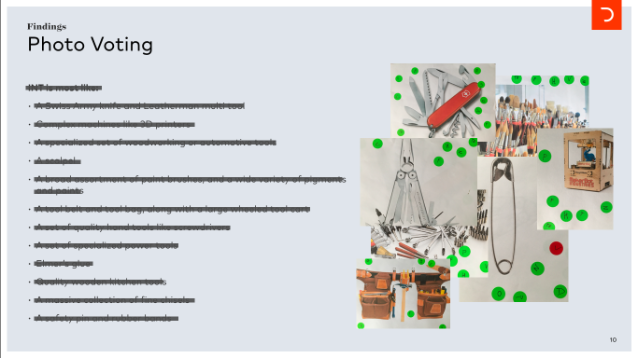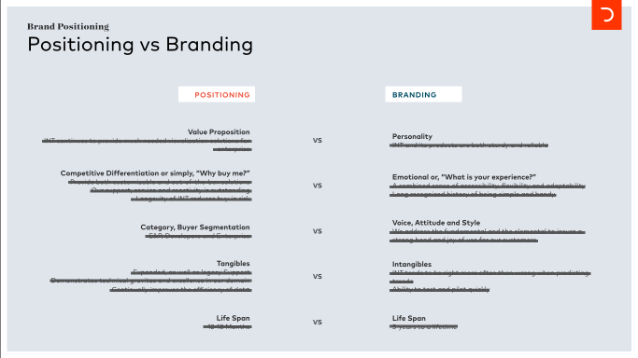 Position, Brand & Mission
We honed in on concise company values to produce solid Position, Brand, and Mission Statements to align each stakeholder.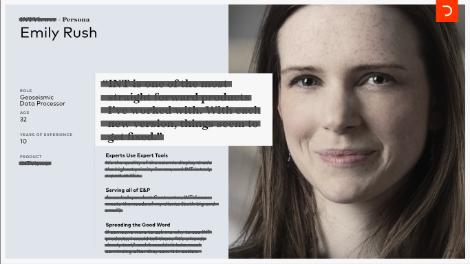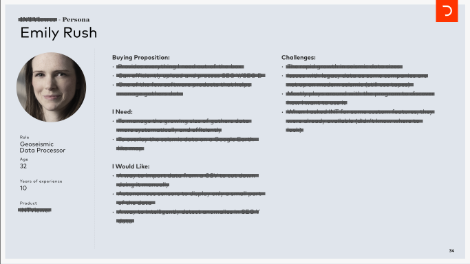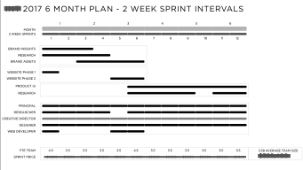 ROI
Our measured and verifiable data encouraged rational solutions, within a practical budget and timeline, that has already led to great outcomes.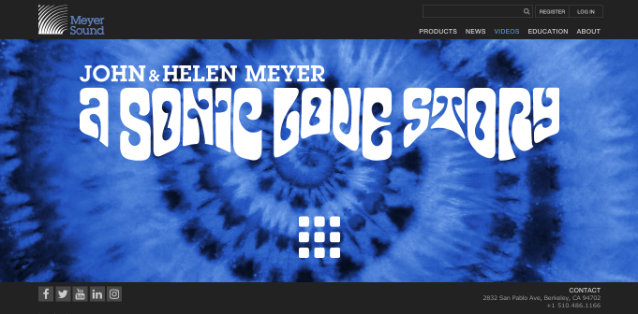 Meyer Sound
As Director I assembled a team of seasoned videographers and implemented a scalable solution to Meyer's steep support burn through online video tutorials. Addressing their most frequent customer concerns, this video department relieved support staff by well over 50% in the first year alone.
Visit Meyer Sound
Before we added this short 2-minute MG, it would take a Meyer support representative an hour to explain Downtilt Translation. Even expert users still refer to videos like these which continue to establish Meyer as the go-to for information on advanced sound propagation.

Detailed walkthroughs like these may seem simple, but it is exactly that simplicity that is so challenging to create. By reworking each step, with Meyer's experts, we devised the safest and surest route to "flying" their loudspeakers. Now, rather than flying one of their techs overseas, seasoned veterans use these videos to refresh their knowledge and skills--and work safer.

DAITO DESIGN (2016 — Present)
Director of Strategy – A team of design thinkers and innovators from around the globe with a shared focus on highly scaleable, science-based UCD/UI/UX design services for Enterprise Energy and Manufacturing.
Austin, TX
Sephora (2016)
Creative Director – Digital SEA iterative development of proprietary inventory apps, alongside a series of global brand, culture and educational materials in San Francisco, CA.
Berkeley, CA
MEYER SOUND LABS INCORPORATED (2015 — 2016)
Creative Director – Designed, implemented and directed Videography department to produce both live-action and Motion Graphic videos, software tutorials and brand identity trade show content for Meyer's hardware and software products. UCD/UI Research and Design for Meyer's Compass App. Also functioned as Project Manager, Scriptwriter, Editor, Motion Graphic Designer, as well as on-boarding new hires.
Berkeley, CA
PATINA ENTERTAINMENT (2013 — 2015)
Creative Director – Concept and design for both web and mobile with a focus on brand identity and marketing for film and television.
Los Angeles, CA
TEMERITY FILMS  (2012 — 2015)
Creative Director – IA and UX/UCD for both web and mobile, as well as storybook apps. Video production, narrative films, music and multimedia.
Oakland, CA
FIRECRACKER WEEKLY (2011 — 2012)
Editor-in-Chief – Children's newspaper (similar to Highlights) with online interactive narratives and content.
Oakland, CA
EX'PRESSION COLLEGE FOR DIGITAL ARTS (2007 — 2012)
Course Director – Design with a focus on motion graphics and storytelling. Film with a focus on visual narrative, script writing, film history and production. Sound Arts with a focus on engineering and commercial post production.
Emeryville, CA
ART DEPARTMENT (2003 — 2007)
Project Coordinator – Sculpture and fabrication (early use of 3D printing) from design concept to realization for feature animated films.
San Francisco, CA
AMBER MUSIC (2000 — 2003)
Engineer – Broadcast commercial music and sound design. SUSSAN DEYHIM: New York, NY
Engineer – Multimedia installations combining film, sculpture, and music.
New York, NY
UNIVERSITY OF CALIFORNIA AT SANTA CRUZ (2000 — 2003)
Teaching Assistant – Music Department.
Santa Cruz, CA
Rung
Something just for fun.
With seasoned animator Chuck Duke, our 2008 original Stop Motion animated film (shot entirely on 16mm) premiered at the Hiroshima International Film Festival as "Best in the World."
Education
UNIVERSITY OF CALIFORNIA AT SANTA CRUZ (UCSC), Santa Cruz, CA
B.A. in Composition.
National Dean's list. Graduated with honors.