新莊報導:輔大醫院及民生相關報導
Xinzhuang Report: Auxiliary Hospital and People's Livelihood Report
By 李凡菲 on March 15, 2019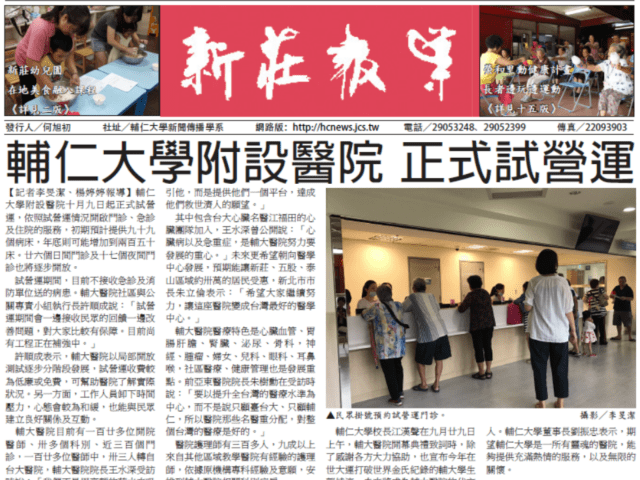 其他新莊作品請點擊此網址:
https://reurl.cc/prQ14
1. 輔大醫院聯手輔大學生 為早療兒童帶來「聖誕奇蹟」
https://reurl.cc/g4LWp
【記者李旻潔報導】輔大醫院復健科兒童發展中心與輔仁大學服務性社團於十二月廿四日聯合舉辦聖誕節早療親子關懷活動「聖誕奇蹟」,除了由輔大服務性社團的學生呈現聖誕戲劇表演,也和發展中心的兒童及家長一齊製作薑餅屋和卡片。活動由兒童將聖誕小卡掛上聖誕樹作結尾,現場氣氛溫馨動人。 2. 輔大醫院婦女健康中心開幕 重視女性身心及隱私
https://reurl.cc/M4nAn
【記者李旻潔報導】輔仁大學附設醫院特色醫療「勇源婦女健康中心」十月廿四日舉行揭牌儀式,輔仁大學校長江漢聲、輔大醫院院長王水深、副院長楊友仕、勇源輔大乳癌基金會創辦人陳致遠、打破世界紀錄的舉重金牌選手郭婞淳等到場祝福。
For other Xinzhuang works, please click here:
https://reurl.cc/prQ14
1. Auxiliary Hospital cooperates with college students to bring "Christmas miracle" to children with early treatment
https://reurl.cc/g4LWp
[Reporter Li Yujie reports] The Children's Development Center of the Fu Da Hospital and the Service Society of Fu Jen University jointly held the "Christmas Miracle" of the Christmas Morning Care Parent-Child Care Campaign on December 24, except for students from the auxiliary service society. Presenting Christmas drama performances, and making gingerbread houses and cards with children and parents in the development center. The event was ended by children hanging Christmas cards on the Christmas tree. The atmosphere was warm and moving. 2. The opening of the Women's Health Center of the Auxiliary Hospital pays attention to women's body and mind
https://reurl.cc/M4nAn
[Reporter Li Yujie reports] Fu Jen University's hospital special medical "Yongyuan Women's Health Center" held the opening ceremony on October 24th, Fu Jen University President Jiang Hansheng, Fu Da Hospital Dean Wang Shui Shen, Vice Dean Yang Youshi, Yongyuan Fu Breast Cancer Fund The founder Chen Zhiyuan and Guo Wei, the weightlifting gold medalist who broke the world record, were present at the scene.
---
---