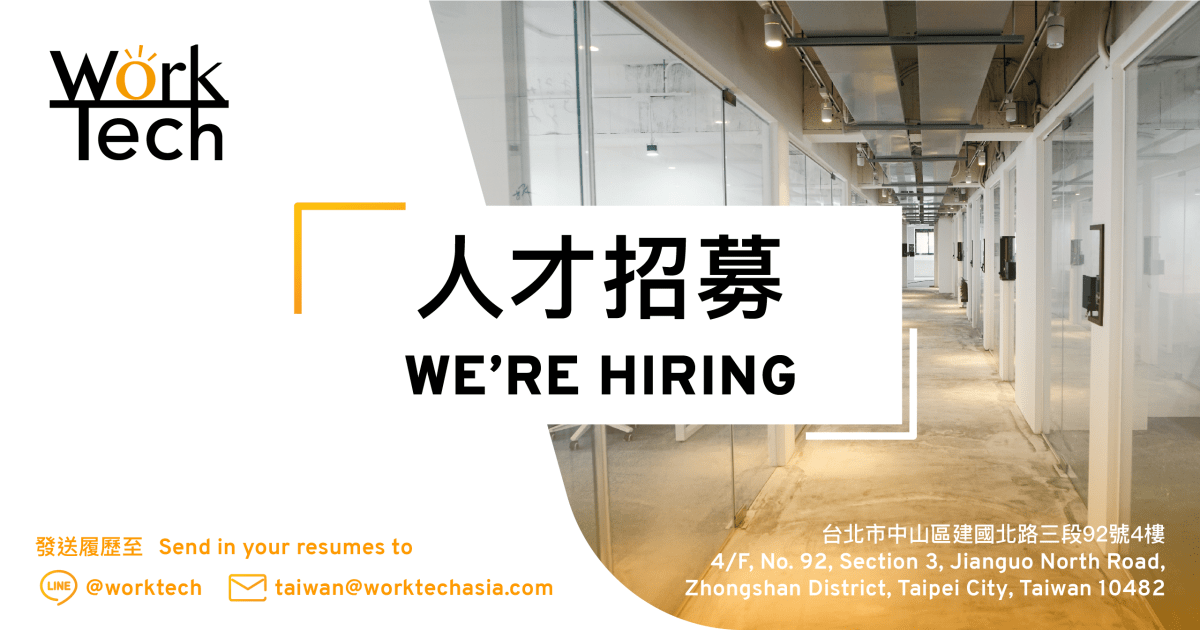 About us:
WorkTech is a leading co-working brand with over 19 sites across Hong Kong, Shanghai, Beijing and Taipei. We provide inspiring, aesthetically designed work spaces for companies for all growth stages, entrepreneurs and freelancers to thrive, connect and prosper.
We are looking for a motivated and outgoing individual to oversee and manage the daily customer operations at our location in Taipei. This role suits someone with the drive – not necessarily with years of management experience.
Are you are interested to be part of a global team and having the opportunity to connect with people from diverse backgrounds and industries, enjoy bridging relations both professionally and personally?
Click apply and drop by for a chat (informal interview)!

關於我們:
WorkTech是一個領先的共享工作間品牌,在香港,上海,北京和台北已經擁有超過19個共享工作空間地點。 我們為所有初創公司、企業家和自由工作者提供最舒適,以及富有美學設計的工作空間。WorkTech希望促進企業相互共享網絡和連繫,一同繁榮發展。

我們在找一位積極、外向的同事來監督和管理我們在台北的日常運營。有活力的您已經適合這個工作角色,不一定具有多年的管理經驗!
您也有興趣成為國際團隊的其中一員,並有機會與來自多元背景和行業的人士共事,學習不同的專業以及建立個人的關係橋樑嗎?

馬上應徵和我們交流一下吧!(不需要正式的面試)


As a WorkTech Community Manager, you will:
Drive weekly community initiatives designed to develop connections between members, including member introductions, events and through social media
Solve member-related issues to help foster a collaborative community
Identify opportunities, design, and implement guidelines and best practices to ensure the best member experience is always delivered
Oversee events to ensure a good balance of different types of events and ensure a great experience for both WorkTech members and non-members

• Engage with our communities among and outside our brand to build WorkTech branding and gain local insight as to the latest co-working trends and competition.
• Organize, plan, lead and attend events and meetups.
• Establish partnerships with partners and members.
• Work closely with our marketing team to provide quality content to keep members up-to-date with events, promotions and partnerships.
• Develop strategy for community partnerships with members and partners.
• Coordinate with Hong Kong Team to build and execute social media strategy through competitive research, event promotions, in-house promotions, messaging and target audience identification.
• Oversee community management and moderation of social communities in Taiwan.
• Assist with the planning, development and execution of the events and all related community outreach and ambassador programs.
• Work closely with management team to ensure accuracy and timeliness of content output that includes newsletters, social media, videos, and articles.
• Update regular press releases, news and blog posts
• Press and Interviews
• Representing the company at conferences, meetups, and other media opportunities

作為WorkTech社群經理人,您將:
推動每週的社區計劃,旨在發展企業成員之間的聯繫,包括成員介紹,活動和社交媒體操作
解決與成員相關的問題,以幫助培養和協作社區運作
主動探索合作機會,設計並實施相關的指南,旨於為成員提供最佳的社區體驗
監督和確保不同類型的活動都得以順行舉行和帶起良好的社區氣氛,為WorkTech的成員和非成員都能享受活動的體驗
•與我們的社區合作,內外多方共建立WorkTech品牌,並在最新的共同工作趨勢和競爭中洞察獲得市場
•組織,計劃,領導和參加活動和聚會
•與合作夥伴和成員建立夥伴關係
•與我們的市場營銷團隊密切合作,提供高質量的內容,使會員了解最新的活動,促銷和合作夥伴關係
•制定與成員和合作夥伴的社區夥伴的戰略關係
•與香港團隊協調,通過市場競爭性研究,活動促銷,內部促銷,信息傳遞和了解目標受眾,製定和執行社交媒體戰略
•監督台灣社區管理和社會社區運作
•協助規劃和執行活動以及所有相關的社區外展和大使計劃
•與管理團隊密切合作,確保內容發佈的準確性和及時性,包括新聞簡報,社交媒體,視頻和文章
•定期更新新聞稿和博客文章
•媒體訪談安排
•代表公司參加會議,聚會和其他媒體活動
Perks
• Opportunity for work trips
• Salary bonus based on job and company performance
• Training and opportunities for promotion
We seek candidates who share our values and have outstanding qualities, such as leadership, resilience, integrity, a digital mindset, strong communication skills and the ability to work with a diverse group of people.
福利:
- 海外據點交流機會
- 績效獎金
- 培訓和晉昇機會
WorkTech在找能夠與我們分享價值觀並具有卓越條件的應徵者,例如領導力,適應力,誠信,數字思維,良好的溝通技巧以及與不同群體合作的能力皆是需要兼備的!